MODULE ONE
Hong Kong | 20 - 25 May 2019
MODULE TWO
Guangdong | 9 - 14 June 2019
FEES
USD$12,000 per participant
Includes course materials, transport, hotels (Module Two) and most meals
PARTICIPANTS
Tri-sector cohort from government, business and civil society in the Guangdong-Hong Kong-Macao Greater Bay Area
MODULE ONE: DYNAMIC CLASSROOM LEARNING
Sessions will involve candid discussions, debate and role play related to the trends and changes shaping the GBA's future. Participants from business, government and civil society are encouraged to think critically about the various opportunities and challenges within the Greater Bay Area and its relation to Asia and the world.
This module's content and methodology focus on the soft skills critical for aspiring leaders: agility, self-awareness, communication, and the ability to give and receive constructive feedback.
Facilitators and guest speakers convey a new narrative on leadership, the world around us and the evolving roles of key sectors in our society.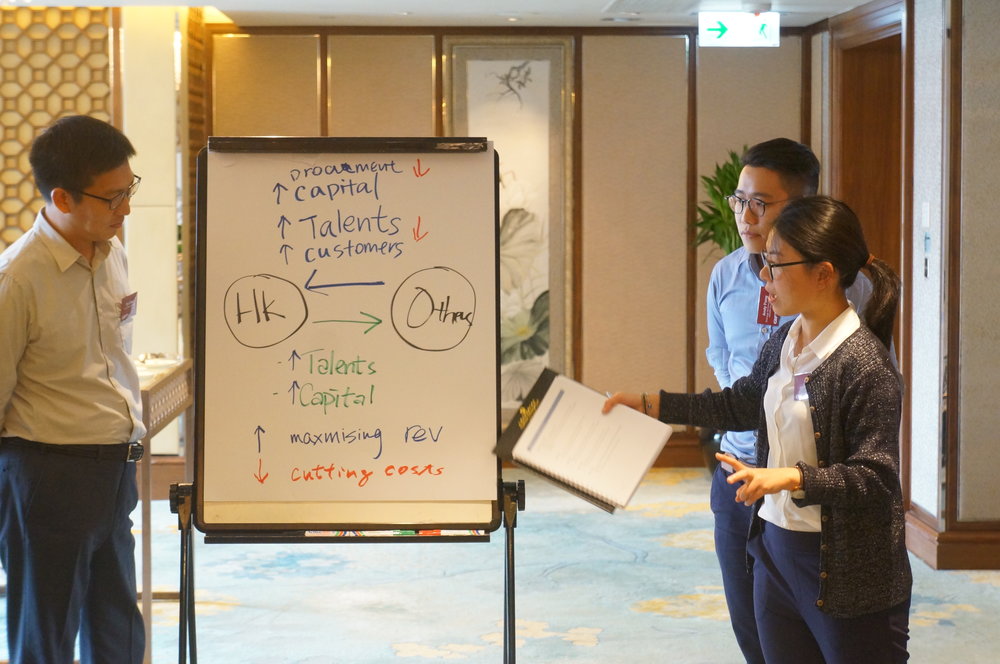 INTERIM PERIOD: TRANSITION INTO MODULE TWO
In between Module One and Module Two, participants will have the opportunity to carry out research and due diligence for the upcoming field project in the Greater Bay Area. Team Assignments facilitate the transition into Module Two, and are designed to further the group's understanding of the issues surrounding the field project.
MODULE TWO: EXPERIENTIAL FIELD PROJECT IN THE GREATER BAY AREA
Rigorous action learning alongside business planning sessions stretch participants and give meaning to "thinking outside the box". Participants will work on a real-world project in the Greater Bay Area (GBA) applying their knowledge and skills learnt from Module One.
For the GBA-YLP, GIFT is partnering with the Global Acceleration Academy of the Hong Kong Science and Technology Parks Corporation to develop new frameworks for innovation in the GBA.
Site visits and meetings with government officials, business leaders and communities provide a unique view of the GBA's social, political and economic landscape.
Interventions and mentoring by facilitators encourage real-time reflection and feedback, whilst business planning sessions and a safe environment help participants hone leadership skills and internalise their learning by doing.
Presentation to key stakeholders at a public forum on the final day tests participants on professional commitment and communication.
The Guangdong-Hong Kong-Macao Greater Bay Area
The Guangdong-Hong Kong-Macao Greater Bay Area is poised to become the world's largest Bay Area. Large infrastructure projects have made the region more integrated, and further economic cooperation will propel the region into a global center for trade, finance, and innovation.
This programme will highlight key considerations for the future of the GBA, as well as allow participants to understand first-hand the opportunities and challenges facing the region.
Project Partner
Hong Kong Science and Technology Parks Corporation
Comprising Science Park, InnoCentre and Industrial Estates, Hong Kong Science & Technology Parks Corporation (HKSTP) is a statutory body dedicated to building a vibrant innovation and technology ecosystem to connect stakeholders, nurture technology talents, facilitate collaboration, and catalyse innovations to deliver social and economic benefits to Hong Kong and the region.
The Global Acceleration Academy (GAA) pairs high-flying start-ups from around the world with market-leading brands to commercialise and localize innovative products and introduce them to the market faster, leveraging the advantages of Asia's most connected city, Hong Kong.